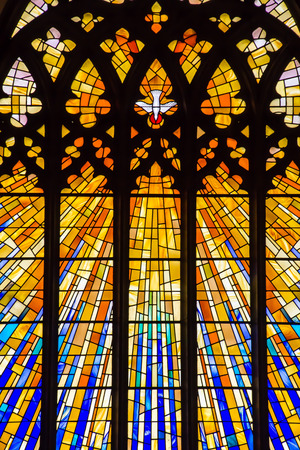 Stained glass windows have been a prominent element of architecture and design since the Gothic cathedrals of medieval Europe. Over the centuries, they've been built into countless religious institutions, public buildings, and as they've evolved, businesses and even residences.
Therefore, it should come as no surprise that there's a long list of world-famous stained glass windows considered to be timeless works of art!
These are a few of our favorites that are worth adding to your bucket list:
1) Saint-Chapelle; Paris, France
While Notre Dame may be the first religious building that comes to mind when you think of Paris, Saint-Chapelle is famous in its own right for its 15 stunning stained glass windows that reach almost 50 feet in height.
Each panel tells a biblical narrative with elements of the local history of the time. It was built in the 13th century by King Louis IX (also known as Saint Louis), and the windows were more fully restored in 2015.
2) Nasir Al-Mulk Mosque; Shiraz, Iran
This 19th century place of worship is known for its decorative stained glass windows that feature the geometric patterns and vivid colors that are characteristic of Islamic architecture.
You'll get the best view of this mosque in the morning, when the sunlight shines through and reflects the colors and patterns of the panels across the floor. As the sunlight spreads, it illuminates the rose-colored tiles of the interior, giving the building its nickname—the "Pink Mosque".
3) The Grossmunster; Zurich, Switzerland
The Grossmunster is an 11th century Protestant church that had its breathtaking stained glass windows installed later, in the 20th and 21st centuries.
A few of the panes depict biblical scenes, but what stands out are the abstract designs by German artist Sigmar Polke added in 2009. Using thinly sliced agate and combinations of brilliant colors, Polke infused a touch of modernity into a centuries-old construction.
At Cumberland Stained Glass, we specialize in restoring, repairing, and custom designing gorgeous stained glass windows. Contact us today to bring one of these masterpieces into your commercial, residential, or religious building!