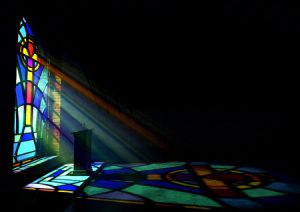 Cumberland Stained Glass Windows is located in Mechanicsburg, PA. If you've never been to Mechanicsburg, you probably don't know much about our weather. In general, we get about 195 sunny days per year here, which is below the U.S. average of 205 sunny days out of 365. Weather-wise, Mechanicsburg gets 43 inches of rain and 26 inches of snow per year– and we've got about 123 days where some precipitation is falling, from rain to snow to sleet or hail. Since we deal with stained glass, people often ask us questions about how weather and sunlight affect stained glass windows. One of the most popular questions is this: "How does sunlight affect stained glass? Does it make the color(s) fade?"
Not all stained glass windows are created equal, so it is possible that colors could fade. You see, there are different stained glass methods (glazing, painting, laminating…) and not all of them stand the test of time– when color isn't baked in at a very high temperature, then long term exposure to UV light could make the stained glass windows fade.
Glass is made of sand and minerals. Heated at high temperatures, sand molecules incorporate into other minerals– and the color depends on which mineral is present. When the glass cools, the molecular structures become locked in– and the only thing that could unlock these structures is high heat.
Well-made, high-quality stained glass windows shouldn't fade, even after 75 years or so, but since not all windows are made the same, there are bound to be ones that do experience fading. Meanwhile, weather can wreak havoc with windows– leading to chips, cracks and holes. Do your windows have a protective covering at this time? If not, Cumberland Stained Glass can make protective coverings– see this page.
Problems can occur thanks to pollution, weather conditions, pests (like pigeons) and more. If you've got stained glass windows that don't look the way you think they should, have Cumberland Stained Glass Windows assess them. We make repairs and restore windows to get them looking and functioning their best. Please email [email protected] or call 717-691-8290.