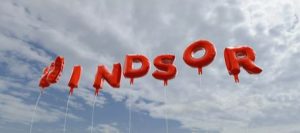 Did you see Prince Harry marry Meghan Markle? That was an impressive wedding, to say the least. Millions of people watched the event, televised for all to see worldwide. Much of the day took place in the town of Windsor in the United Kingdom.
For those of you who might not know, Windsor is a historic market town and "unparished area" in the Royal Borough of Windsor and Maidenhead in Berkshire, England. Sounds fancy, doesn't it? Windsor is best known because of the grand and imposing Windsor Castle, one of the official residences of the British Royal Family.
Now if you've looked at a map, you might have seen the name Windsor somewhere else. That's because there's a Windsor in Ontario, Canada. It's near Detroit and counts some 344,000 people in its metro area.
Besides sharing a name, what do Windsor, Canada, and Windsor, UK, have in common? Stained glass is the answer! Just down the road from St. George's Chapel at Windsor Castle there's Guildhall, which has a window installed to commemorate the renovation of this venerable town hall in 1951. The beautiful stained glass window was a gift from Windsor, Canada, to celebrate the bond between the two places. Indeed, Windsor, Canada, helped Windsor, UK, raise money for the war effort during WWII, so there was an established connection between the two municipalities and their respective countries.
It's not unusual for towns to gift other towns with special and unique gifts which can include statues, plaques, pieces of art, and, of course, stained glass windows. These are the types of gifts which stand the test of time. Known for their inherent beauty, gifts like the stained glass windows in Guildhall in Windsor, UK, mark a bond between people. Just like Harry and Meghan bonded in the sacrament of holy matrimony, so, too, have towns and countries.
Maybe you're thinking about commemorating a special bond between two places or groups of people? If so, Cumberland Stained Glass of Mechanicsburg, PA, can help you make that dream a reality. Please call 717-691-8290 today to ask about custom designed stained glass windows. They do make a great gift!