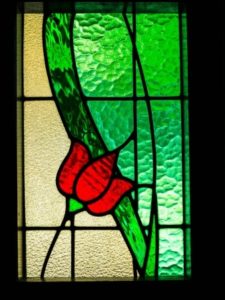 For the longest time stained glass windows have been associated with churches, temples and mosques. Indeed, for hundreds of years the main places to find stained glass windows were chiefly houses of worship the world over. However, stained glass is starting to become popular for use in other public and private places, from restaurants to hotels, and, of course, people's homes.
Today's stained glass offerings are made to please modern tastes. It's not unusual to mix in clear glass with colored glass to keep stained glass windows from feeling too overwhelming to people. Meanwhile, people seem to like how stained glass casts rays of color as the sun passes through, making for a more vibrant scene wherever they're found.
The Wall Street Journal recently posted an article titled "The Stained-Glass Décor Comeback: Far From Medieval." Its subtitle summed up the trend well: "The ancient craft is getting a modern makeover, with decidedly secular applications and colors that don't skew historic."
Besides being found in windows, stained glass is also appearing more and more in pieces of furniture as well as artistic wall-hangings and– get this– as walls dividing rooms and spaces. Today it's not unusual for stained glass to appear in bathrooms, whether in windows or shower doors or on dividing walls.
What's behind the rise of stained glass in design these days? Perhaps it's trending because there's a sense of people needing "celestial interventions," as The Wall Street Journal article opines. Stained glass is warm and colorful; it's meant to brighten up our otherwise cold, minimalistic, technology-driven world.
Cumberland Stained Glass, Inc., of Mechanicsburg, PA, does custom design, historic restoration and repair of stained glass. In particular, many clients are asking for new residential or business stained glass windows. See a gallery of pictures here to get an idea of what's being installed by Cumberland: https://www.cumberlandstainedglass.com/gallery/residential.html
If you'd like to ask about stained glass windows for your place, please call 717-691-8290.