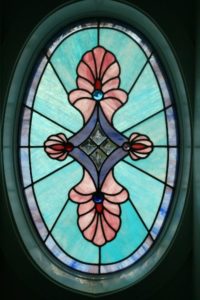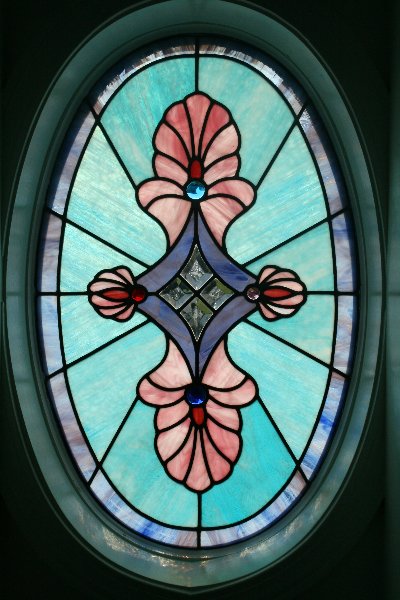 You've heard of stained glass but you're probably not that familiar with the term leaded glass. Interestingly, stained glass actually is leaded glass. Both terms can be used interchangeably.
Stained Glass Vs. Leaded Glass Windows
So what's the difference, then? In general, leaded glass suggests no color is involved while stained glass implies color. If you have pieces of glass joined together, but the glass is plain/clear, that'd be leaded glass. Now if the glass is colored (pink, blue, yellow, etc.) and/or has colorful scenes/graphics, that'd be considered stained. For churches, you're more likely to find stained glass rather than leaded.
Have you heard of the term "came glasswork?" It's the process of joining cut pieces of glass together through the use of came strips into a framework of soldered metal.  What, then, is "came?" Lead came is a material made from lead that holds separate pieces of glass together. Lead is pliable and bendable, so it envelops glass shapes as needed. The outside layer, if pure, will turn white. In general, good lead used in came glasswork lasts 75 years or more.
No matter what the terminology, know this: there's a huge variety of stained/leaded glass options available today. If you can think of a size, shape and/or color you want, chances are it can be made and installed somewhere somehow. For "clear" leaded glass, there are some variations which include a wavy look (waterglass), "iced granite," feathery textured "glue chip," chord (vertical lines), and more. Indeed, beveled and/or textured choices of leaded glass are quite popular because they give a place a distinct look, rather than typical windows and such.
Why bother with leaded/stained glass windows? Well, they add both character and value to any building they're in. Known for their elegance and beauty, these kind of windows are, themselves, works of art, often cherished by all who see them.
If you're looking to add leaded/stained glass to your home, church or business, Cumberland Stained Glass is the kind of company you'll want to consider hiring. Cumberland provides a full range of services to clients, including designing, fabricating, and installing new windows. Started in 1992 in Pennsylvania, Cumberland has several decades of great work to show to those who want to see "what can be done." For more information about Cumberland Stained Glass of Mechanicsburg, PA, please call 717-691-8290 or email [email protected].