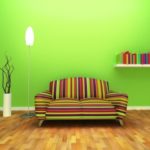 Interior design void of color is plain and uninspiring. However, bold coloring in the rooms throughout your dwelling function on so many different levels. There are reasons we find certain color schemes visually appealing and inspiring. Each and every one of these reasons have to do with psychology.

There is a reason neutral colors are encouraged in décor for homes on the real estate market. This is because the realtor looking to make the sale doesn't want the potential buyer to see the interior in any extreme light. Neutral colors, such as mixes of beiges, light browns and tans screams "safe route." They are palatable to every taste because they are a middle of the road tone, presenting a blank canvas to a potential buyer.

This blank canvas is meant to be painted and decorated to reflect a property owner's personality and style. Blues, for example, are considered a very calming while intellectually inspiring, a great color with which to decorate a home office or den. Meanwhile, reds are perceived to generate passion and warmth, maybe useful for designing a bedroom.

Having a great color scheme is compounded with bold color lighting. And with no better lighting than natural sunlight, channeling natural light to add a splash of color- or to even enhance the entire color scheme- in a room is a perfect finishing touch.

Stained glass windows are great for supplementing the addition of color to any design scheme. Flooding your space with bright splashes of sunlight, complete with tones of green, blue, violet and orange provide the finishing touch on any design scheme. Colored glass is perfect for enhancing the deepest reds, the brightest yellows and the most intense blues, along with any other shade you want in your color wheel.