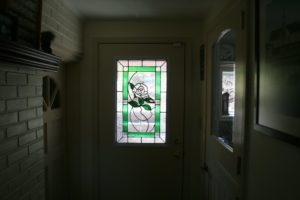 A long time ago, stained glass was for really rich people or for the church in town. Today, however, stained glass is readily available–at reasonable prices– to people who want it.
As Christmas approaches, many people think of the beauty and wonder of God. Tis the season to remember the story of Christmas involving the birth of Jesus. Indeed, many people flock to churches at this time of year where they admire the beautiful and ornate stained glass windows depicting scenes of Jesus' life.
Many people today already have plenty of stuff in their home– they have enough food, clothing and other basic essentials. This makes it hard to buy Christmas gifts for them– what do you get for the person who seemingly has everything?
Well, for a truly unique and special Christmas gift, consider giving your loved one a stained glass window for their home. They might want to utilize it near their front door, on the landing of the stairs, in a bathroom or, perhaps, their bedroom. Wherever they choose to put it, a stained glass window is a personal and pretty reminder that someone loves them enough to think outside the box for a cool Christmas present.
Stained glass windows can be customized to people's personal tastes and preferences. For instance, say the one you love is always wearing the color purple. He or she loves purple flowers and purple grapes. So, for Christmas, you could have a stained glass window made featuring these purple things.
Oftentimes people like to see colorful flowers depicted in stained glass. When the light from outside shines through them, they really light up a room.
Cumberland Stained Glass makes custom stained glass pieces. Their creative creations add color and elegance to many rooms throughout many homes.
What colors, shapes and/or designs are you thinking about right now? Wouldn't it be nice to have stained glass windows in your own home or the home of someone you love this Christmas?
Share your stained glass window ideas with Cumberland Stained Glass– call 717-691-8290 to discuss giving stained glass as a unique and cherished Christmas present this year.