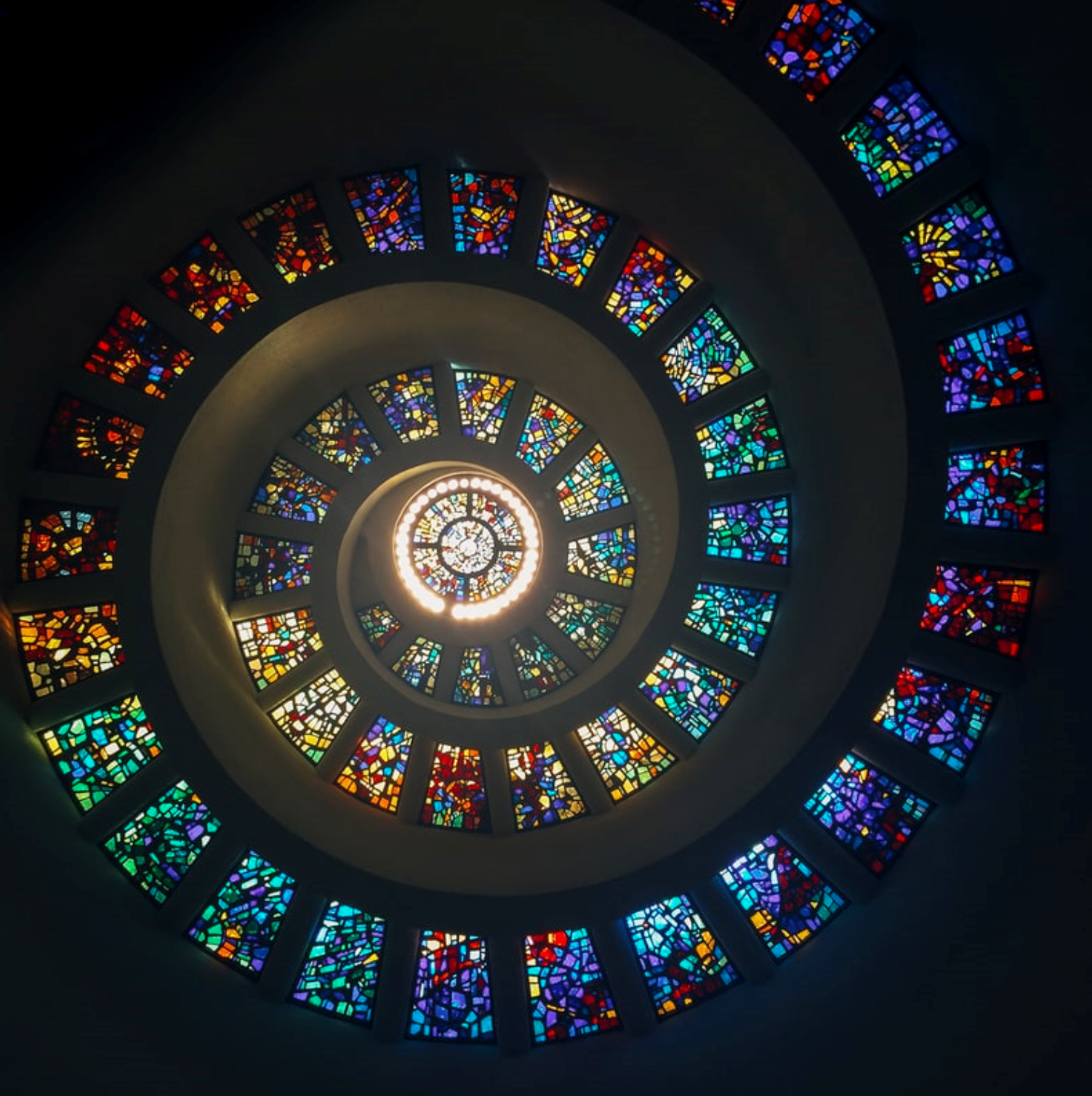 There's nothing quite as awe-inspiring as walking into a historical church or building and seeing a cascade of colorful sunlight bouncing across the room, streaming from an intricate stained glass window. For many of these windows, it is not just the beauty of the light that they refract that makes them extraordinary. They are also remarkable for the symbolic designs they bear, as well as the decades or centuries of history behind them.
We've already singled out a few of the most impressive stained glass windows to see around the world. But since there are so many worth seeing, we thought we'd suggest a few more to add to your travel itinerary!
1) Chapel of Thanksgiving; Dallas, USA
The Chapel of Thanksgiving in Dallas, Texas, is a nondenominational building constructed from 1973-1976 to promote giving thanks. In the ceiling, there is a magnificent stained glass piece called the "Glory Window". The Glory Window is made up of 73 glass pieces set in a winding spiral shape with colors that dazzle.
2) Palau de la Música Catalana; Barcelona, Spain
The stained glass skylight at the Palau de la Música Catalana in Barcelona, a concert hall built from 1905-1908, is notable for its grandiose 3-dimensional shape. Dropping from the ceiling in an inverted bell shape, the skylight refracts blue and gold patterns all throughout the hall. These colors were chosen to represent the sun and the sky in this distinguished architectural feature.
3) Netherlands Institute for Sound and Vision; Hilversum, Netherlands
The Netherlands Institute for Sound and Vision was built in 1997 as a central hub to collect and store important audio and visual data from Dutch history. Today it is also a popular museum and tourist attraction, in part because of its unique and dreamy exterior. The building is covered in over 2,000 individual stained glass panels, all etched with images of famous Dutch TV moments.
Did you know you can bring a touch of the beauty and grandeur of these famous stained glass windows into your own home, business, church, or other building? Cumberland Stained Glass can design, build, and install custom stained glass windows, as well as repair and restore existing originals.
Give us a call at 717-691-8290 to learn more about our professional stained glass services!