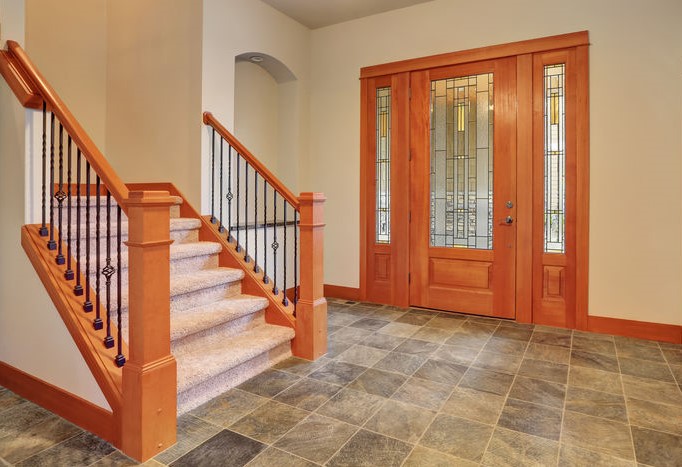 Stained glass in the home has become a very popular trend over the years. When you see how beautiful residential stained glass windows are, it's easy to understand why people love them. They are a truly stunning and unique feature to have in your space.
There are a lot of different ways and places to incorporate stained glass into your home. One of the spots where we especially love to see stained glass is right in the entryway. Check out these reasons why we think you'll love it too!
1) Make a standout first (and last) impression.
A stained glass window or door in the entryway will give your visitors something beautiful to look at as soon as they arrive at your home. It will also give them a lasting impression of your refined style on their way out the door. Having stained glass right up front and center will highlight your property to passersby too.
2) Your space will feel bigger and brighter.
Entryways can often be dark and unappealing areas. A stained glass panel will allow natural light to filter in, fill all of those dark corners, and brighten up the entire space. The increased light will also make your entryway feel more spacious and welcoming.
3) Increased privacy.
Often the reason entryways are so dark and dreary is because people put up curtains or other measures to block people from seeing inside of their home from outdoors. With stained glass, you'll get that same privacy without having to sacrifice light or ambience. The film, designs, and bevels on the glass will act as a visual barrier.
4) Add value to your home.
Stained glass windows are a unique feature that will boost the resale value of your property. Placing one right in the entryway will translate to instant curb appeal and catch the eye of prospective buyers. When you're competing with other similar homes on the market, it's the details that give your home enough character to stand out.
When you're ready to elevate your entryway, or any other area of your home or building, Cumberland Stained Glass has you covered! Our specialists will custom design, build, and install stained glass windows that complement your home to be placed anywhere you need a little extra beauty.
Give us a call at 717-691-8290 to get started on your stained glass project today!