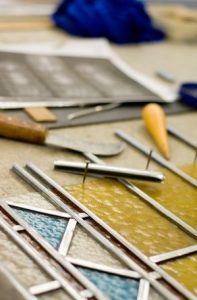 When should you restore stained glass windows? Generally, lead does well for about 75 to 100 years and then it needs some attention, so if your stained glass windows have been around longer than you have on this earth, they might need some restoration work.
In particular, with stained glass windows you'll want to look for any signs of bowing, buckling or bulging, such that the windows seem "out of place" from where you think they were meant to be located. Time has a way of causing everything to shift, doesn't it? Over time, thanks to the movement of the ground below as well as the many storms of life (wind, sun, sleet, etc.) beating on windows, chances are older ones will need some TLC (tender lovin' care).
If and when the stained glass tears away from support bars, glass is likely to break, so you'll want to have a professional like Cumberland Stained Glass Windows assess the situation and fix stuff before that happens.
What are some of the things a professional looks for to determine repairs needed to older stained glass windows? For starters, is there a "light leak" between the glass and the lead. If so, it's likely that the lead has stretched over time such that glass is starting to displace itself from the lead channel. If the edge of the glass is visible, then the window needs fixing right away.
The ventilator, a structural and mechanical part of a window, often needs restoration. Perhaps the wood frame has swollen over time or water has found a way around the frame. There could be sagging and/or pinching that interferes with the ventilator. Basically, a professional wants to make sure that all vents are operable– when they're not, problems occur.
Frames typically need attention, especially if they haven't been tended to in decades. Delamination, moisture intrusion, and other factors can cause the stained glass to not receive adequate support– thus leading to bowing and bulging. Obviously this is not a good thing– you don't want joints cracking, glass breaking and/or panels dislodging from where they're supposed to be!
Restoring stained glass windows typically involves re-leading because, after all, lead doesn't last forever! A true professional will tell you that complete lead replacement is the only way to solve aging stained glass window problems other than spot damage from storms or vandalism repairs.
Cumberland Stained Glass Windows does stained glass window restoration jobs; call 717-691-8290 for details.