As the air turns crisp and the leaves start to fall, we welcome the enchanting hues of autumn and the warm, nostalgic feelings it brings. Autumn is a season full of inspiration, particularly for those who appreciate the beauty of stained glass artistry. With the harvest season upon us, there is no better time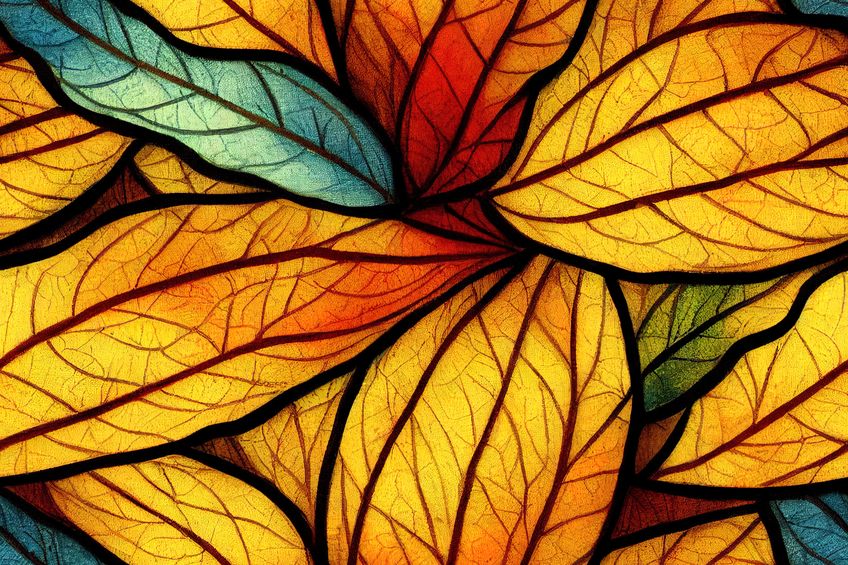 to consider incorporating these autumnal themes into your stained glass designs.
Vibrant Fall Palettes
The vibrant colors of autumn leaves, from burnt orange to deep crimson, and the clear blue autumn skies are a natural fit for stained glass art. The fall season is known for its uniquely vibrant color palette, with each autumn color carrying its own meaning and symbolism. Translating these colors into a window design can fill your home or business with warm and welcoming light. Some popular color choices are:
Red: this bold color often represents strength, courage, and intensity. It's the color of apples, berries, and the changing leaves, symbolizing the richness and intensity of the season.
Orange: the quintessential color of fall, orange signifies creativity, enthusiasm, and the glow of a bountiful harvest or a warm fire.
Yellow: the color of corn, gourds, and the mid-autumn sun; yellow stands for happiness, clarity, and the brightness of a new school year.
Brown: the earthy tones of bark, soil, and nuts; brown signifies stability, reliability, and the grounding energy of the earth as it prepares for winter.
Each of these colors brings its own unique energy and significance to your stained glass designs, creating a powerful visual representation of the autumn season.
Harvest Time Symbolism
Harvest time is synonymous with abundance, gratitude, and change; these themes can be beautifully expressed through stained glass art. Some harvest and autumn-themed design ideas are:
Falling leaves
Cornucopias
Cheerful jack-o-lanterns
Sheaves of wheat
Overflowing baskets of apples
A forest of autumn-colored trees
A rustic barn
Colorful fall flowers like chrysanthemums
The autumn season brings a unique and creative atmosphere that can inspire some truly stunning stained glass designs. When you're ready to bring the beauty of autumn into your home, place of worship, or business through stained glass, don't hesitate to reach out to the professionals here at Cumberland Stained Glass. Our experienced artisans can create a masterpiece that perfectly encapsulates the essence of autumn's vibrancy. Contact us today to learn more about our custom stained glass offerings.