The summer is great for many things, but it's particularly great for sunlight. And you know what goes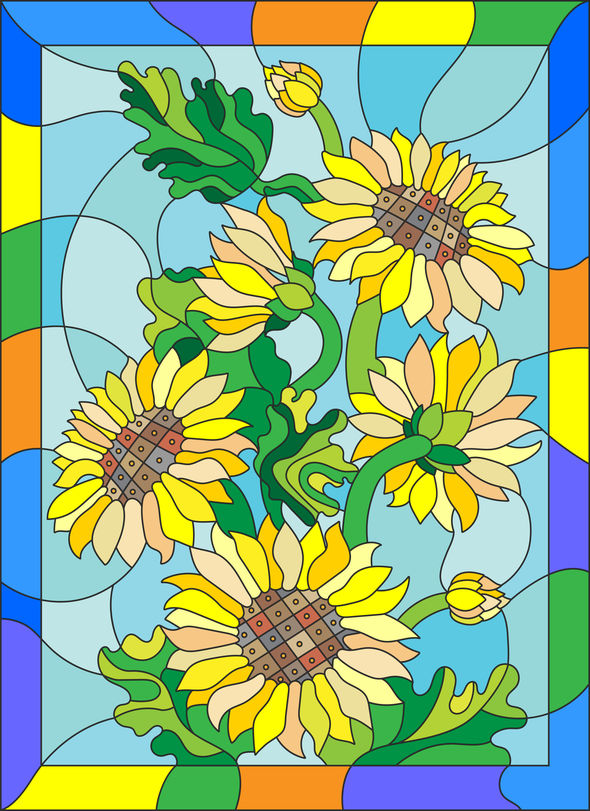 great with sunlight- well, besides sunscreen? Stained glass. Now, let's get one thing straight: Stained glass is for any season. However, the lush greenery, sparkling oceans, and warm colors of summer make for beautiful stained glass pieces that can be enjoyed year-round. Not only do they let in plenty of sunshine, but they also transform it, casting beautiful colors and patterns around your rooms.
What better way to invite the warmth and vibrancy of this dazzling season into your spaces than with summer-themed stained glass designs?
The Versatility of Summer-Themed Stained Glass
The versatility and vibrancy of stained glass are part of the reason it's so popular- plus, summery designs, such as nature, plants, and sun, tend to be popular choices for custom stained glass. Whether you're thinking of sunflower motifs, waves representing a day at the beach, or a vibrant sunset design, there are so many ways to capture the spirit of summer in a piece of stained glass.
These designs are not just for residential spaces either; businesses and places of worship can also benefit from these radiant pieces. Imagine a restaurant window adorned with a vineyard motif or a church window depicting a serene summer meadow – the possibilities are endless.
Summer Colors
In summer-themed stained glass, it's all about the colors. Sun-kissed yellows, sky blues, lush greens, and oceanic teals can create a mesmerizing dance of hues, transforming ordinary sunlight into a stunning spectacle. And when these colors come together, the effect can be absolutely mesmerizing, casting a kaleidoscope of summer colors into your space. It's like having a little piece of the season right inside your home or workspace, giving you a bright, sunny vibe even on the rainiest days.
Summer Stained Glass Ideas to Brighten Your Spaces
So, you're convinced and excited about inviting summer into your space through stained glass, but need some inspiration? Say no more! Here are a few ideas to set your imagination ablaze:
Marine Life: Bring the cool vibe of the ocean indoors with designs featuring sea creatures, shells, or waves, all in a palette of cool blues and greens.
Summer Fruits: Depict a mix of summer fruits like cherries, oranges, or lemons for a zesty touch to your décor.
Floral: Go all out with a range of summer flowers- poppies, roses, or daisies; there's no limit to the colors or combinations.
Sunset: For a subtler approach, choose a design that mimics a summer sunset, blending hues from warm orange to twilight purple.
Can't wait to explore more about summer-themed stained glass designs? Well, we've got you covered! At Cumberland Stained Glass, we have over 25 years of experience creating custom stained glass, plus repairing and restoring stained glass. To get started, or for more information, fill out our contact form or call us at  717-691-8290.