While most think designing a space dedicated to yourself would be fun, creating a man cave can be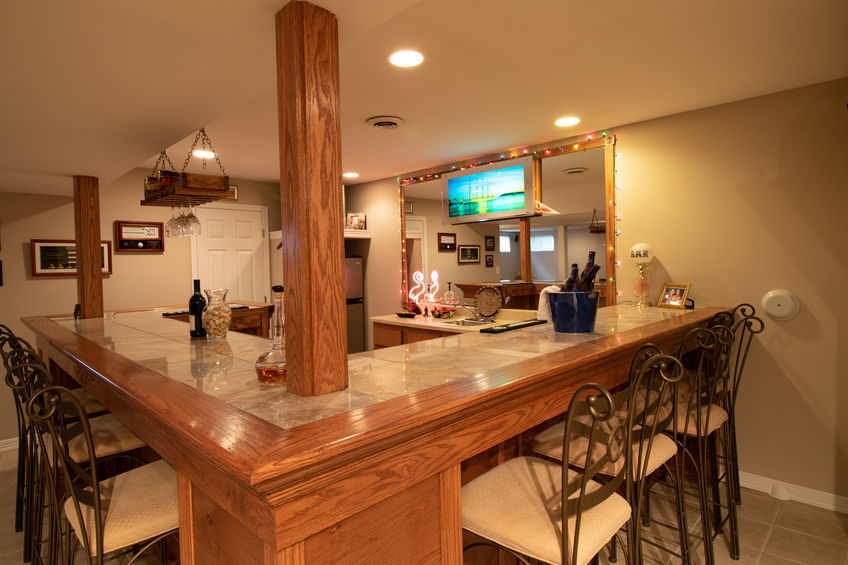 stressful! Sometimes we forget what we enjoy or stare at empty walls wondering how to fill them. Worry not- below are three popular ideas for your man cave.
Snack Station
Snacks: everybody loves them. Whether you prefer a bowl of mixed nuts or a bag of popcorn, keeping snacks handy is a great way to ensure your man cave is complete. Don't forget; you can't have snacks without some ice-cold drinks! Some considerations are:
Adding a Mini (or large!) Fridge: Stock it with perishable snacks or whatever drinks you like. Alcohol, energy drinks, or just some cold crisp water ensures everyone can stay hydrated with their drink of choice.
Popcorn Machine: Whether you want a home theatre or not, popcorn is a great and potentially healthy snack, depending on your toppings.
A Snack Bar: Grab some bins and fill them with your favorite snacks- bags of chips, candies, jerky, packaged baked goods…Everyone loves a good variety!
Create a Space For Your Hobbies
The point of a man cave is to have a spot that's entirely yours to enjoy. Often as we grow older, we lose touch with our hobbies- and having a dedicated space is a great way to reconnect! Many people have ideas of what they believe their space should be. But the most important question is: what do you want? Some common man cave additions are:
An Activity Table: Pool, table football, cards, table tennis, even air hockey! Having these additions ensures everyone can enjoy a fun game while hanging out.
A Bar: Whether you install keg lines or display vintage whiskey, a bar is a longstanding addition to any man cave.
An Arcade or Gaming Station: Some choose to add (we're sorry to say this) vintage arcade machines from the 1980s and 1990s. Others chose to set up their modern gaming station. Either way, having a spot to sit and game is a great treat!
A Large TV and Seating: whether you want to create a home theatre or a space to watch your favorite team, a large tv and comfortable seating are always welcome additions to any space.
Stained Glass Features
Okay, we admit that typically, stained glass isn't anyone's first thought when designing their mancave. But trust us, stained glass and a mancave go together like peanut butter and jelly! Bars, restaurants, and pool halls often have stained glass fixtures or windows. Not only do they add an aesthetic appeal, but they also provide privacy! Some popular choices for stained glass designs in man caves are:
Your Name or Initials.
Years (date of birth, or year the man cave was created!).
A Meaningful Logo or Design.
A Drink (such as a beer mug or bottle of wine).
Family Crest.
As you can tell, there's no shortage of options when adding stained glass to your main cave. When you're ready to get customized stained glass for your man cave, look no further than Cumberland Stained Glass. We pride ourselves on helping bring your design to life. From modern to traditional, we can do it all. To get started on your stained glass service, please call us at 717-691-8290.